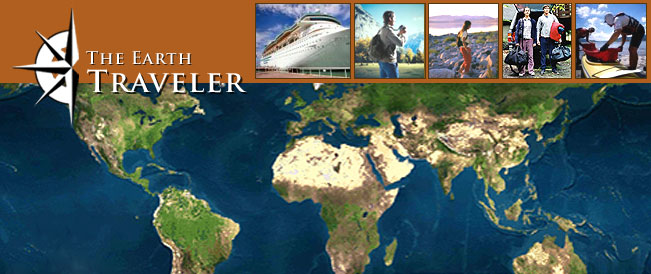 Privacy Policy
Last revision :July 27, 2005
The TheEarthTraveler.com Website is committed to bringing you information that is tailored to your individual needs and, at the same time, to protecting your privacy. The following is a summary of the various ways we treat the information you provide us while using the TheEarthTraveler.com Web site.
The TheEarthTraveler.com Web site does not collect personally identifying information except with your specific knowledge and consent. We do not share such information with any outside party, so there is no need for you to "opt out" to get off mailing lists.
In a few cases, if you e-mail a question or some feedback to us, we require your e-mail address so that we can, for example, e-mail you with a personal reply. If you choose to supply this information we will use it only for the specific purpose for which you supply it - unless we tell you otherwise at the time of collection, in which case you'll have an option to forbid other uses by us.
We will never share any of your personally identifying data with any other party without your explicit permission, nor use it for unapproved commercial purposes.
A few special cases are worth noting. From time to time we may run competitions or request material we can publish; to participate, you must usually supply us with your identity, which you agree to have publicly associated with your submission. The exact rules vary from case to case, and will be noted clearly on the relevant pages. Your participation will always be voluntary and knowing.
We may offer to send you information or updates from the TheEarthTraveler.com Website via e-mail or otherwise; obviously, signing up will put you on a specific mailing list. We will not put you on any other mailing lists, from us or anyone else, without your permission.
You may have read about "cookies," nuggets of information that are placed by a Web site in a storage place on your own computer. TheEarthTraveler.com Website may from time to time use cookies to control the display of ads - to ensure that you don't see the same ad too many times in a single session, for example - and to track usage patterns on our site, or for some other purpose.
While using the TheEarthTraveler.com Web site you may notice that from time to time we will post advertising and that our advertisers may occasionally serve you cookies, either directly or when you link to their sites. We cannot directly control what our advertisers or these cookies do, but it's our policy that advertisers on TheEarthTraveler.com Web site should use cookies the same way we do.
Your Web browser likely includes an option that allows you not to accept them. We don't recommend using this option as it makes browsing our site a less enjoyable experience. In fact, some of our content pages may require at the very least, cookies for sessions.
Finally, while your individual information is protected as outlined above, we reserve the right to use aggregated, anonymous data about our users as a group. For instance, we might report to potential advertisers that a certain percentage of our users appear to be return Internet shoppers.
THIS PRIVACY POLICY MAY BE MODIFIED FROM TIME TO TIME; NOTICE OF CHANGES WILL APPEAR ON THIS PAGE, SO CHECK BACK OFTEN. If you have concerns or questions about any aspect of this policy, please send us e-mail. We welcome your feedback.